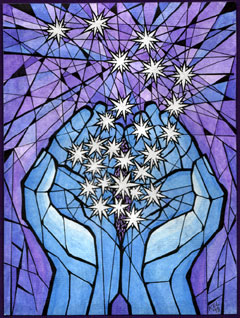 Classes Every Thursday 7:00- 8:30 PM
"The Center" - San Francisco Lesbian, Gay, Bi-Sexual, Transgener Cener, 1800 Market St, Room 302 http://www.sfcenter.org/
Sliding Scale FREE $0 to$10 donation per class
No one turned away for lack of funds!
Taught by: Guru Tera Singh and Adesh Singh
More info: 415-695-1265
Kundalini Yoga uses breath, posture, mantra, guided visualizations and lifestyle techniques to affect deep, yet gentle, changes in physiological and psychological patterns.
Ideal for beginners and people with physical limitations. If you are out of shape, weak, tire easily or are self-conscious about your body - come to class. We create a safe, welcoming atmosphere. Even if you just sit with us and breathe, you can benefit from the experience.
Class Format:
Each class is approximately 1 1/2 hours

If you arrive late, come on in and join us

Tune in and create a sacred & protected space

Warm Ups (10 min)

A set of yoga exercises working on specific topic such as boosting the immune system, opening up the heart center, detoxification, core strengthening, clearing the electromagnetic field, generating healing energy, etc.. (40 min)

Deep Relaxation with music (10 min)

Meditation (11 min) - Some meditations use breathwork (pranayam) and others use chanting (Mantra). All mantras are translated and the expected effects of the meditation are explained. Participate to the degree you are comfortable.

Yogi Tea and Closing
Effects reported by practitioners include:
Detoxification
Emotional balance
Clarity & peace of mind
Increased breathing ability
Increased flexibility
Pain relief
Improved overall health and stamina
Before class:
Abstain from eating at least 1 hour before class

Bathe, or even better - a cold shower
What to bring to class:
Wear loose, comfortable clothing - changing space available in restroom

Yoga mat, blanket, towel or Sheepskin to provide padding

Blanket to cover yourself for deep relaxation

Props - Blocks, straps, pillows, etc.

Water !